The emergence of telemedicine for opioid addiction
Patients who have become addicted to opioids (like oxycodone, Percocet, Vicodin, Dilaudid, heroin, and fentanyl) often struggle to find treatment services that provide evidenced-based medication, like buprenorphine/naloxone (Suboxone). (1,2,3)
Unfortunately, only 10-14% of patients with addiction to opioids receive treatment, and there is a great need to increase access to care. (4)
JT, a 42 year-old male who became addicted to Percocet, describes his experience: "It took me a while to realize how much the Perocet was taking over my life. Then, when I finally reached out for help, I had a hard time finding someone to prescribe me Suboxone. I found a few providers but they were not even close to where I lived."
While JT's experience is tragic, it's also commonplace. Fortunately, access to Medications for Addiction Treatment (MAT) is expanding through telehealth services, making it easier than ever to treat addiction. These services use audio and video phone technologies to deliver addiction treatment to patients while eliminating person-to-person contact and associated travel.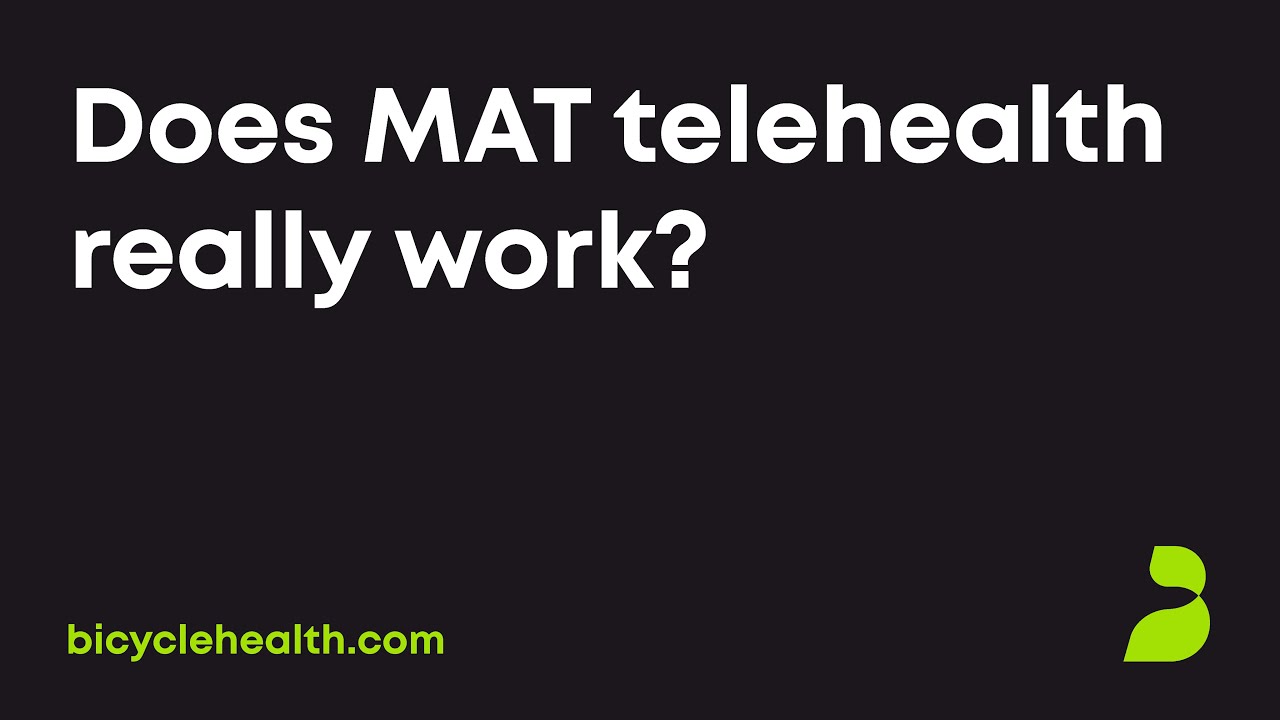 Are telehealth services effective?
Preliminary studies suggest: YES! Though there have not been many studies comparing telehealth services to in-person treatment, those that have been conducted suggest that telehealth services may improve patients' ability to stay in recovery (also known as "treatment retention") and may increase access to evidence-based medications, like buprenorphine, especially in urban, rural, and remote areas. (5,6)
Other studies suggest similar relapse rates and similar abilities to build a meaningful relationship with a therapist, compared to in-person visits. (7) This means that choosing telehealth over traditional treatments does not compromise the support patients receive, nor does it increase the risk of relapsing.
Virtual OUD treatment generally includes online counseling, either group-based or individual. It also includes online visits with a doctor, PA, or NP, who specialize in addiction medicine and can provide medical treatment with buprenorphine/naloxone (Suboxone).
Brian Clear, MD, FASAM, Medical Director at Bicycle Health
So, what benefit do telehealth services offer me?
When you receive MAT through telehealth services, there are several benefits:
Increased access to buprenorphine-prescribing providers: It does not matter where you live or where your provider works as long as your provider is licensed to practice in your physical location. You could be in California and your doctor could be in Massachusetts! That means there are more providers available to support you in your recovery and there is more access to treatment.
Expedited FIRST appointment: Motivation to seek treatment is often a passing inspiration, and when patients must wait days or weeks to begin treatment, they are less likely to succeed.
When patients reach out for help, they are much less likely to get a same-day appointment through in-person programs. However, with telehealth services, programs are much more likely to be able to meet patients' needs by providing same-day or next-day appointments by tapping into a large network of providers across the country– not just in the patients' city or town.
Quick START and CONTINUATION of MAT: With telehealth services, patients can conveniently start buprenorphine-naloxone (Suboxone) in the comfort of their own home AND receive prescriptions prescribed electronically, which allows them to pick up medications from their preferred (and close-by) pharmacy.
Telehealth services often provide instructions on how to start buprenorphine and any associated materials, as well as support specialists to guide patients through the home induction process so patients feel well supported.
Increased access to support services: Similarly, without geography limiting access, patients will likely have greater access to mental health services and/or peer support services, such as individual or group-based therapy provided in a virtual format.
Accountability maintained through drug-tests: Many telehealth companies offer at-home drug-testing, helping hold patients accountable to their recovery and encouraging them to discuss any struggles with their provider.
For example, patients can collect urine or oral swab samples in their homes and share the results with their providers during the telehealth appointment.
Privacy: Since patients do not literally have to walk into a treatment program, they can maintain privacy in getting treatment. And, treatment programs cannot release any of their personal health information to anyone (including family, friends, or employers) without the patients' permission, so patient confidentiality is preserved.
Convenience: NO transportation! This is a HUGE advantage– patients can call in for their telehealth appointment from home, work, school, or anywhere else they may be, as long as they feel comfortable in a private space. This saves time, gas, and money!
How is telehealth changing opioid use disorder (sometimes referred to as "substance abuse") treatment?
With increased access to care (both providers and medications), increased convenience, quick-starts, and support services, telehealth services benefit patients and providers.
Of course, there are also downsides. Patients may miss the social connections they create during in-person individual or group-based sessions . They may find that leaving their house and showing up to an in-person visit holds them more accountable and gets them out of the monotony of their day. Patients also may struggle to adapt to new phone and computer-based technologies. And, those without access to phones, computers, and wifi connections or those who are illiterate may not have access, which may preclude patients with limited resources.
Telehealth companies can increase patients' abilities to use new technologies by investing in associated staffing. For example, providing clinical support staff to assist patients in downloading new programs and following up to ensure they know how to use them can help patients more easily "uptake" these virtual-based formats.
Telehealth services are certainly changing the landscape of providing easy-to-access and timely evidence-based medication treatment for opioid dependence.
Bicycle Health
To learn more about the success rates and safety of Bicycle Health's telemedicine addiction treatment in comparison to other common treatment options, call us at (844) 943-2514 or schedule an appointment here.
Header Photo by National Cancer Institute on Unsplash.
By

Randi Sokol, MD, MPH, MMedEd

Randi Sokol, MD, MPH, MMedEd, is an Assistant Professor at the Tufts Family Medicine Residency Program and Instructor at Harvard Medical School. She is Board Certified in both Family Medicine and Addiction Medicine. She earned her B.A. at the University of ... Read More
Sources
(1) Dupouy, J., Palmaro, A., Fatséas, M., Auriacombe, M., Micallef, J., Oustric, S., & Lapeyre- Mestre, M.Mortality associated with time in and out of buprenorphine treatment in French office- based general practice: A 7-year cohort study. Annals of Family Medicine. 2017; 15(4), 355– 358.6.
(2) Evans, E., Li, L., Min, J., Huang, D., Urada, D., Liu, L., Hser, Y., & Nosyk, B. Mortality among individuals accessing pharmacological treatment for opioid dependence in California, 2006– 2010. Addiction.2015; 110(6), 996–1005.7.
(3) Sordo, L., Barrio, G., Bravo, M.J., Indave, B.I., Degenhardt, L., Wiessing, L., Ferri, M., & Pastor-Barriuso, R. Mortality risk during and after opioid substitution treatment: Systematic review and meta-analysis of cohort studies. British Medical Journal. 2017; 57, j1550.8.
(4) Lipari, RN, Park-Lee, E, and Van Horn, S. America's need for and receipt of substance use treatment in 2015 . The CBHSQ Report: September 29, 2016. Center for Behavioral Health Statistics and Quality, Substance Abuse and Mental Health Services Administration, Rockville, MD.
(5) Lin, L., Casteel, D., Shigekawa, E., Weyrich, M, Roby, D., & McMenamin, S.Telemedicine- delivered treatment interventions for substance use disorders: A systematic review. Journal ofSubstance Abuse Treatment. 2019; 101: 38-49.
(6) Yang, Y., Weintraub, E., & Haffajee, R. Telemedicine's role in addressing the opioid epidemic. Mayo Clinical Proceedings. 2018; 93(9): 1177–1180.
(7) Lin L, Casteel D, Shigekawa E et al. Telemedicine-delivered treatment interventions for substance use disorders: A systematic review.
Journal of Substance Abuse Treatment. 2019; (101) 38-49.
Imagine what's possible on the other side of opioid use disorder.
Our science-backed approach boasts 95% of patients reporting no withdrawal symptoms at 7 days. We can help you achieve easier days and a happier future.